Current Concerns
NIST: "testing [software systems] to high degrees of security and reliability is from a practical perspective not possible." (p.10)
GAO Reports on Electronic Voting Systems
Sept. 2005 March 2007
EAC Has Failed To Meet Its Own Mission Statement
---
Diebold Design Vulnerabilities
report by BBV (pdf)
Privatization of U.S. Elections (pdf)
Review of
"An Active Approach to Voting Verification" by Ted Selker and Sharon Cohen.
Report
DREs vs. Opscan:
Operating Costs
Review of
Accessibility Features:
Sequoia & Avante
---
Why We Need Hand Counted Paper Ballots
Paper Ballot Concepts In a Computerized World
Ballot programming is NEVER examined
Testing and certification process is worse than broken
---
Worth the Time!
Report on Snohomish County DRE Investigation
One vote in one precinct. Does it matter?
---
VotersUnite! Letters to EAC
E-Voting: A Failed Experiment
28-Page Quick Summary of Nearly 200 DRE Failures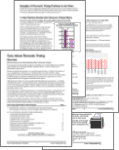 Handouts and Flyers

Incompatibility of Elections with Software Development
Works by John Washburn, professional software tester
Guidelines for
creating test ballots
Pre-election testing cost comparison: optical scanner vs. DRE
htm

Collection of
Voting System Contracts

Estimated cost of hand-counted audits
Why We Need Audits
Tell your legislators

You have the right to inspect government records
For details, click here
Then select your state
Thank you, Dale Tavris!